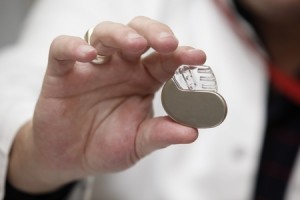 A pacemaker is a very small device that supports the heart to make regular beats. Though today's pacemakers are incredibly advanced and effective, the science wasn't always that way.
A Brief Pacemaker History
Throughout the majority of the 20th century, pacemakers were large external devices run by electricity. In fact, they were so bulky and unreliable that they were too intense for young patients to use. It wasn't until a power outage caused a pacemaker patient to die that the best and brightest minds began exploring alternative options.
In 1959, two doctors and an electrical engineer developed the concept of an internal pacemaker run by a lithium battery. This concept set the stage for the pacemakers used today, and in 1983 the National Society of Professional Engineers labeled the invention as "one of two major engineering contributions to society during the past 50 years."
The Inner Workers of a Pacemaker
When a patient receives a pacemaker, it is because his heart either beats at the wrong speed, beats irregularly, or can't sense the electrical pathways that create the beats. The pacemaker is implanted just under the skin of the collarbone so that it can send small electrical stimulations to create and control a healthy heartbeat.
A pacemaker is actually connected to the heart by miniscule wires.  Advanced technology helps the pacemaker to kick in when it sense that the heart isn't beating properly. While some people need a pacemaker permanently to ensure that blood and oxygen continue to flow efficiently, other people only need it temporarily during recovery from a heart attack or other trauma. Regardless, the pacemaker is so small and functional that people using them can still lead full and active lives.
Those with pacemakers need to be checked by a doctor every three to six months, and the battery is meant to last as long as eight years! Surgery is required to replace the battery, but the process is still very much preferred to risking death from a heart that can't beat on its own.