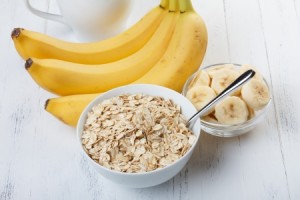 Mornings aren't always easy, especially if you are fighting just to get out the door in time to beat traffic or drop the kids off at school before the bell, but that doesn't meant that breakfast should become a neglected meal. Breakfast not only has the power to influence your energy and mood for the entire day, but it can even protect and strengthen your cardiovascular health! If you're a serial breakfast-skipper, chances are you feel the side effects, even if you're not aware they are related. However, all breakfast choices are not equal, and you will not enjoy the perks of eating breakfast if you're just swinging through a McDonald's drive-thru to order a Sausage McMuffin.  Here's how to do breakfast right.
Opt For Oatmeal
Oats are one of your heart's best friends, especially when paired with other powerful health foods like cinnamon and walnuts. Combine chopped apple, walnuts, cinnamon, cooked oats, and ground flaxseed together with a splash of milk for a satisfying, delicious, and heart-healthy breakfast. Oats are proven to lower cholesterol, cinnamon is known to stabilize blood sugar, and walnuts are a natural source of healthy omega-3 fatty acids. This meal can even be taken on-the-go in a container, and it's easy enough to prepare the night before using an "overnight oats" recipe if you don't have time in the morning.   
All About Avocado
Avocado has become trendy for a good reason; not only is it proven to lower cholesterol, but avocado is also loaded with healthy fats, fiber, and nutrients. Try spreading soft avocado over 100 percent whole grain bread, which has been shown in studies to reduce mortality from heart disease. Breakfast preparation for this meal couldn't be simpler, but it will help you feel full until it's time for a healthy mid-morning snack.  
Buckwheat For Breakfast
Buckwheat isn't as common of a breakfast item, but it's still worth adding to your rotation. Buckwheat groats are gluten-free seeds with a robust flavor. It cooks similar to oatmeal and provides plenty of fiber, vitamins, nutrients, and minerals to keep your heart happy. Buckwheat even is believed to lower inflammation and cholesterol. Prep your buckwheat at night by letting it sit in a bowl of water, then add ingredients like milk, banana, and vanilla to make it tasty.
Eating the right type of breakfast will definitely help your heart, but if you need additional cardiovascular attention, don't wait to call Cardiovascular Solutions Institute in Bradenton and Sarasota, Florida. Dr. Gino Sedillo, M.D. specializes in cardiovascular disease and interventional cardiology, meaning that he can provide the highest quality comprehensive cardiovascular care that you need. Call (941) 747-8789 to make your first appointment.