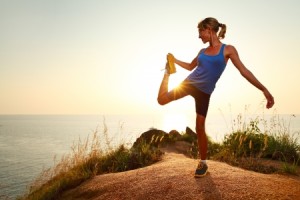 It's no secret that regular exercise is one of the more vital elements of a healthy lifestyle, but it's a relatively newer idea that patients with weak hearts can benefit from physical activity as well. In fact, exercise guidelines for heart attack patients didn't even emerge until about 70 years ago. Before then, even moving from bed to an armchair was deemed dangerous. Thanks to modern day research and technology, cardiologists now understands that aerobic exercise is truly the cornerstone to helping a weak or unhealthy heart recover.
A Stroke of Luck
When Rick Murphy, an Atlanta real estate appraiser, turned the big 5-0, he made the decision to get in shape by training as a runner. It wasn't long until he was competing in Ironman triathlons, but despite his physical prowess, Murphy still struggled with daytime fatigue. Given his long working hours and rigorous training schedule, Murphy assumed the fatigue was just basic exhaustion.
By a stroke of luck, a training friend recommended that he see a sports cardiologist. Murphy agreed, and it only took one appointment for the cardiologist to discover that Murphy required a heart catheterization due to blocked arteries. It came as an enormous shock to Murphy, who realized he had only narrowly escaped a sudden death. However, he couldn't exactly return to training for an ironman after his surgery, which left the question: how much exercise is enough after heart surgery?
The New Accelerated Workout For Cardiac Patients
Since 2009, cardiologists have been recommending high intensity interval training (HIIT) to cardiac patients in rehabilitation after they can complete 20 minutes of moderate aerobic exercise. HIIT is a unique exercise regime that involves pushing the body near its limits for a short period of time and then recovering for a longer period of time with low intensity movements. Of course, the concept of "high intensity" ranges dramatically based on each patient.
Research has been done to explore the implications of HIIT for heart attack patients, and all research has concluded that HIIT does not pose any threats to heart health that are more than the risks of moderate exercise. In fact, some studies even determined that HIIT is the better approach, since it can nearly double cardiorespiratory fitness.
The bottom line? Exercise is always good for the heart, regardless of the situation.